Acer Aspire 5600U Drivers Download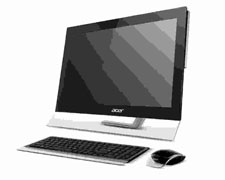 This site maintains the list of Acer Drivers available for Download. Just browse our organized database and find a driver that fits your needs. We are adding new drivers daily, So we can make sure you will download the newest drivers in our site, If you has any Drivers Problem, Just Contact us, then we will help you resolve the Driver Problem.

Here is the list of Acer Aspire 5600U Drivers we have for you. To Download Acer Aspire 5600U Drivers you should Download Our Driver Software of Driver Navigator. Then you can download and update drivers automatic. We are Professional Drivers Company, We will make sure you will Download the exact drivers for your computer.Just Download and Do a free scan for your computer now.


---
Browse
Type
Name
OS
Size
Download
Accessory
Accessory Driver
Windows 7 (32-bit)
Windows 7 (64-bit)
Windows 8 (64-bit)
12.3 MB
Download
AHCI
SATA AHCI Driver
Windows 7 (64-bit)
11.1 MB
Download
AMT
Intel iAMT Driver
Windows 8 (64-bit)
114.6 MB
Download
AMT
Intel iAMT Driver
Windows 7 (64-bit)
47.8 MB
Download
Audio
Audio Driver
Windows 8 (64-bit)
125.5 MB
Download
Audio
Audio Driver
Windows 7 (64-bit)
150.6 MB
Download
Bluetooth
Bluetooth Driver
Windows 8 (64-bit)
185.9 MB
Download
Bluetooth
Bluetooth Driver
Windows 8 (64-bit)
185.8 MB
Download
CardReader
Card Reader Driver
Windows 8 (64-bit)
17.1 MB
Download
Chipset
Chipset Driver
Windows 8 (64-bit)
2.9 MB
Download
Chipset
Chipset Driver
Windows 7 (64-bit)
2.9 MB
Download
FIR
FIR Driver
Windows 8 (64-bit)
6.7 MB
Download
FIR
FIR Driver
Windows 7 (64-bit)
6.6 MB
Download
IRST
IRST (Intel® Rapid Start Technology) Driver
Windows 8 (64-bit)
11.2 MB
Download
Lan
LAN Driver
Windows 7 (64-bit)
6.0 MB
Download
Lan
LAN Driver
Windows 8 (64-bit)
6.8 MB
Download
Others
Other Drivers (Panel)
Windows 8 (64-bit)
1.3 MB
Download
Others
Other Drivers (Remote)
Windows 8 (64-bit)
1.4 MB
Download
Others
Other Drivers (Remote)
Windows 7 (64-bit)
1.5 MB
Download
Others
Other Drivers (Panel)
Windows 7 (64-bit)
1.3 MB
Download
TV Tuner
TV Tuner Driver (W_ATSC)
Windows 8 (64-bit)
58.7 MB
Download
TV Tuner
TV Tuner Driver (A756)
Windows 8 (64-bit)
1.9 MB
Download
TV Tuner
TV Tuner Driver (H334D)
Windows 8 (64-bit)
157.5 MB
Download
TV Tuner
TV Tuner Driver (H335D)
Windows 8 (64-bit)
632.5 KB
Download
TV Tuner
TV Tuner Driver (A336)
Windows 8 (64-bit)
2.5 MB
Download
TV Tuner
TV Tuner Driver (DualDigital_DVB-T)
Windows 8 (64-bit)
55.3 MB
Download
TV Tuner
TV Tuner Driver (H753A)
Windows 8 (32-bit)
1.5 MB
Download
TV Tuner
TV Tuner Driver (H753A)
Windows 8 (64-bit)
1.7 MB
Download
TV Tuner
TV Tuner Driver (A373)
Windows 7 (64-bit)
84.7 KB
Download
TV Tuner
TV Tuner Driver (H335D)
Windows 8 (32-bit)
519.8 KB
Download
TV Tuner
TV Tuner Driver (A336)
Windows 8 (32-bit)
2.1 MB
Download
TV Tuner
TV Tuner Driver (H334A)
Windows 8 (64-bit)
59.4 MB
Download
TV Tuner
TV Tuner Driver (H334)
Windows 7 (64-bit)
1.9 MB
Download
TV Tuner
TV Tuner Driver (A756)
Windows 8 (32-bit)
1.7 MB
Download
USB 3.0
USB 3.0 Driver
Windows 7 (64-bit)
13.6 MB
Download
VGA
VGA Driver
Windows 7 (64-bit)
151.7 MB
Download
VGA
VGA Driver
Windows 8 (64-bit)
147.0 MB
Download
VGA
VGA Driver
Windows 7 (64-bit)
189.6 MB
Download
VGA
VGA Driver
Windows 8 (64-bit)
206.0 MB
Download
VGA
VGA Driver
Windows 8 (64-bit)
205.5 MB
Download
Wireless LAN
Wireless LAN Driver
Windows 8 (64-bit)
37.0 MB
Download
Wireless LAN
Wireless LAN Driver
Windows 8 (64-bit)
37.1 MB
Download
Wireless LAN
Wireless LAN Driver
Windows 7 (64-bit)
161.5 MB
Download